Last Year Africa showed good progress in its solar market growth which was primarily driven by five countries: Egypt, South Africa, Kenya, Namibia, and Ghana.
The continent's solar assets experienced a growth of over 1.8 GW in new solar installations, with 1.4 GW coming from photovoltaic (PV) installations, which was a significant jump from the 786 MW that was brought online in 2017. Of this new capacity, around 94% percent was attributed to new on-grid installations and 6 percent to off-grid systems.
The 'Big -5' together contributed to 1,067 MW of newly installed PV capacity in 2018, according to statistics from the International Renewable Energy Agency (IRENA). It should be noted that Morocco was excluded from this report as the market consists mostly of concentrated solar power (CSP) capacity.
The Big 5
Egypt: The sunniest country in the continent saw a 'monumental year' in terms of PV installations making Egypt the fastest-growing solar energy market in Africa for 2018. Egypt zoomed ahead of South Africa, Kenya, Namibia, and Ghana. The country's solar industry added around 581 MW of new PV capacity, an almost fourfold increase compared to what it had installed in 2017, thereby overshadowing the 373 MW of PV capacity added by South Africa.
It was mainly due to the completion of the first installations in the world's largest solar complex, the gigantic 1.46 GW Benban solar facility.
For 2019, things are looking very promising for Egypt's solar energy market. The Benban project is on track to becoming fully operational by the end of this year. Additionally, another solar auction might be in the works. And the country is well on its way to reaching its solar energy target of 2 GW by 2022.
South Africa: Africa's largest solar energy market, with an installed PV capacity of 2.5 GW, South Africa is by far the largest market in terms of operational solar systems. However, the market has experienced some stagnation over the past years, especially due to the postponement of its renewable energy auctions. Despite this, South Africa was able to add 373 MW of solar energy capacity to its power mix in 2018. Most of this growth came from the rooftop/ residential segment, complemented by some commercial & industrial (C&I) and ground-mounted installations.
For this year, some estimates indicate that the country could add as much as 700 MW to its grid. However, the speed at which this can be accomplished will depend on how fast Eskom can bounce back to its feet. By 2030, the country aims to have 7,958 MW of solar PV capacity, making up 10% of the country's installed power generation mix.
Kenya: One of Africa's strongest and most advanced economies, Kenya has set out ambitious goals to meet its growing energy demand by investing heavily in renewable energy sources. The country currently has an energy mix consisting of around 65% of renewables, making it one of the renewable energy leaders in Africa.
In 2018, Kenya added 55 MW of PV capacity, a new record for the country. This was due to the commissioning of the country's first utility-scale PV plant, the 55 MW Garissa solar park located in Barki Village. Kenya is also striving to install a further 500 MW and 300,000 domestic solar systems by 2030.
Kenya entered this year with an installed PV capacity of 93 MW and plans to add much more in the coming years. Since the country is home to the region's largest solar power plant and has a pipeline of around 526 MW of large-scale PV projects fueled by its ambitious electrification targets, it will be interesting to see how Kenya's solar PV sector will develop in the coming years.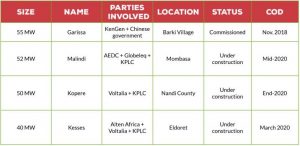 Namibia: The driest country in Sub- Saharan Africa, Namibia experiences more than 300 sunny days per year. Last year, Namibia's solar energy market was able to almost double its installed PV capacity, from 46 MW in 2017 to 79 MW in 2018. These new installations were mainly attributed to the wave of utility-scale solar projects that have been connected to the country's grid, instead of the usual residential and C&I installations. The market even welcomed the first solar-plus-storage facility, a 150 kW project located in Barki Village, mid-August last year.
Namibia's solar energy market had a stellar year in terms of new PV installations in 2018. The market experienced impressive growth of 74%, one of the highest in the continent. One of the main drivers for this growth has been Namibia's increasing need for local energy generation. The country has a pipeline of more than 120 MW of large-scale solar projects set to come online by the end of 2021.
Ghana: The only country in West-Africa highlighted in this report, Ghana has put an impressive amount of focus on solar energy development over the last couple of years. The country added 25 MW of new PV installations in 2018 to come to a total of 64 MW of cumulative installed solar energy capacity,  which is an annual growth of 76%. Most of this capacity – around 42 MW – can be attributed to its utility-scale segment, while 7 MW is contributed by the C&I segment and around 15 MW by solar home systems/off-grid projects.
The solar energy market in Ghana has gone through some ups and downs over the past 5 years. However, after the boom it experienced in 2018, the country has gained the traction it needs to maintain its position as one of the fastest-growing solar PV markets in Africa.
Last year, Ghana's government announced plans to install 200 MW of rooftop solar energy capacity throughout the country. The program, also known as the "Government Goes Solar" campaign, is aimed at ensuring that governmental institutions transition towards renewables in order to reduce expenditure on utilities.