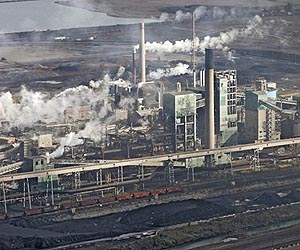 Washington DC (SPX) May 27, 2011
Scientists are reporting development and successful testing of a promising new way of using a troublesome byproduct of the global steel industry as raw materials for bricks that can be used in construction projects. Their study appears in ACS' Industrial and Engineering Chemistry Research.
In the report, Ana Andres and colleagues note that steel mills around the world produce vast quantities of waste dust each year – 8 million – 12 million tons in the United States, for instance, and 700,000 tons in the European Union countries.
The dust often is converted into a rock-like material known as Waelz slag, which is usually disposed of in landfills.
The slag contains iron, calcium, silicon oxide and other minor oxides as manganese, lead or zinc oxide. Scientists have been searching for practical and safe uses for Waelz slag.
In earlier research, scientists showed that Waelz slag had potential as an ingredient in bricks, roof tiles and other ceramic products.
The new research moves large-scale recycling of Waelz slag closer to reality, establishing at two real-world brick factories that the material can successfully be incorporated into commercial-size bricks.
It showed existing commercial equipment could be used to make bricks with Waelz slag, and eased concerns about large amounts of potentially toxic metals leaching out of such bricks.
A small amount of potentially toxic material came out of the slag-made bricks over time, not in excess of European Union regulations.
"Overall, it may be summarized that Waelz slag containing bricks meet the highest quality standards set for construction ceramic materials," the researchers say.
The authors acknowledge funding from the Spanish Ministry for Education and Science and BEFESA Steel R and D.